The days of slow turnaround, expensive, panel-based market research are coming to a close. Instead, the future lies in the agile and hyper-focused world of social media-based research.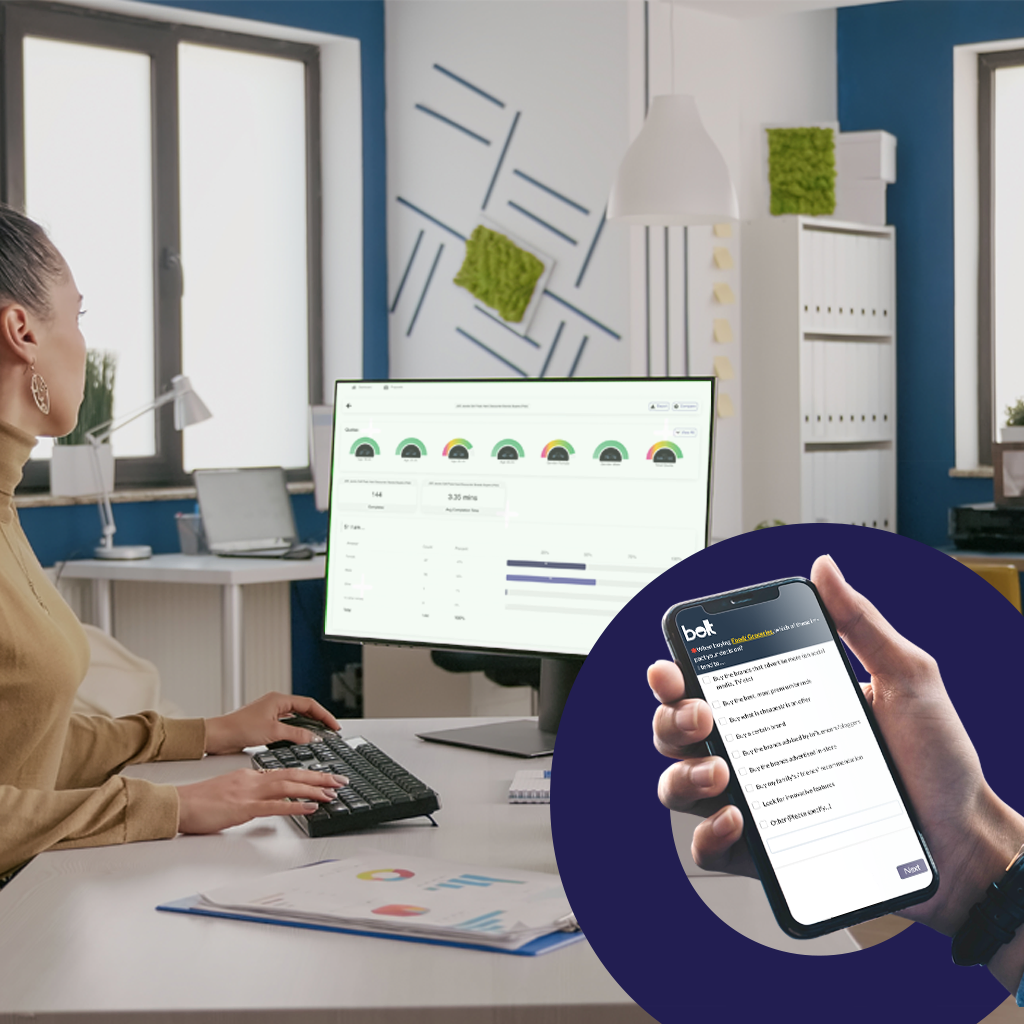 Big Data
"There are many unique data sources, on a range of topics, that give us windows into areas about which we could previously just guess.
Offering up new types of data is the first power of Big Data.
The pornhub data and the Google search data are not just new; they are honest.
Big Data allows us to finally see what people really want and really do, not what they say they want and say they do.
Providing honest data is the second power of Big Data.
Because there is now so much data, there is meaningful information on even tiny slices of a population. We can compare, say, the number of people who dream of cucumbers versus those who dream of tomatoes.
Allowing us to zoom in on small subsets of people is the third power of Big Data.
Allowing us to do many causal experiments is the fourth power of Big Data." Reference: Everybody lies by Seth Stehens.
In the present age, relevance is the key to reach your target audience. With social media monitoring and analytics tools, companies can gain detailed analysis and insights from their target audience. Not just that, social media allows companies to gain a windfall in competitive intelligence helping them explore various sales opportunities.
But successful implementation of a marketing research strategy also involves strict adherence to the fundamentals of conducting research, which is to recruit the right respondents to participate in your study.
Recruitment of high-quality participants is a huge concern in market research. In an attempt to understand this rarely discussed problem, Liveminds conducted research benchmarking the opinions of researchers on the state of research participant recruitment. More than 100 qualitative researchers in the UK responded to this survey.
The GRIT report revealed that the 'quality of participants' was the single biggest challenge faced by the industry today.
Although the research focuses on qualitative research recruitment, the concerns of quantitative research are no different – since panels also use databases of repeat participants.
So, What is an Effective Recruitment Method?
Businesses that are willing to try a technology-driven approach to transform market research participant recruitment can achieve dramatic results. Behavioural science has revolutionised research with many innovative processes in recent years. These robust methods help researchers minimise the effect of cognitive biases – a step crucial to the success of personalised campaigns. Traditional methods on the other hand rely on 'claimed behaviour' and/or direct questioning and thus are prone to error.
Appealing to Target Groups Directly in the Online Space They Already Inhabit (Social Media)
The vast ocean of social media gives you access to an extensive pool of ideal participants. Limiting yourself to a small pool of participants reduces your chances of finding the right respondents. Moreover, professional or repeat participants have a conditioned way of thinking and hence, they do not represent real customers.
The size of social media is more than 200 times the size of even the biggest quantitative panels. Every single activity of the user goes into the behavioural data to build a better understanding of your target audience and your market research.
Social media expands your reach and at the same time narrows down your focus on the target audience. The more you learn about your target audience, the more relevant your ads, messaging, and content would become.

Precise and Hyper-Focused Customer Targeting
One of the first things to do is to dig deeper into data analytics to identify unique audiences. In order to get a more in-depth understanding of your core audience and potential customers, it is important to surpass the typical demographics of age and gender.
With the advancement in technology and data analytics, marketers can now target the participants in a whole new way. Artificial intelligence and location data from devices help to make this data even more granular.

Broadly or Narrowly Targeting Specific Customer Groups
Hyper-targeting lets you narrow down the huge audience to just those who matter. It can be achieved by placing surveys in front of users whose demography, behaviour, and interest closely matches the project criteria.
You can utilise behavioural targeting to create audience segments based on their actions and inactions. By segmenting the audience based on the similarity of behaviour, it becomes easier to send tailored and timely messages that correspond to their actions.

Behavioural Targeting for Informed Decisions
Tailoring market research for relevant behaviours is important to target the right people and increase engagement. With behavioural targeting, researchers can monitor user activity to determine which advertisement or message will resonate most with them. By leveraging behavioural data based on people's likes and activities, marketers can trigger personalised marketing.
Behavioural targeting is all about knowing your customer well. It works by tracking the user. It involves collecting user information and knowing more about their behaviour to target them with relevant advertising. Thus, behavioural advertising makes it easy and swift for consumers to conduct online research or take purchase-related decisions.
To make confident decisions, businesses need to interact with reliable people who actually want to engage with their brand. With the specific audience data from behavioural targeting, it becomes possible for businesses to reach their customers at the right time to make informed and critical decisions.
Reduced Turnaround Time for Surveys
Since the advent of social media, researchers have given importance to the art of social listening. Social listening is a key parameter in social media audience research. However, the true potential of social listening lies in recruiting for primary research.
By using the power of social media to transform their respondent targeting capabilities, marketers can reduce the turnaround time for many surveys from days to weeks and even to hours, all whilst staying within their budget parameters.
Not having to wait for the roughly 3-weeks for panel-based research, companies can digitize their market research to match the speed of their business decisions. In a hyper-connected world, the ability to provide hyper-targeted research in real-time is the key to stay above the competition.
Greater Return on Investments
Behavioural targeting combines personalisation with real-time information to shake up the market research industry. It allows users to tailor their marketing messages according to consumer behaviour. This narrows marketing scope to improve engagement increases returns on marketing investments and improves sales.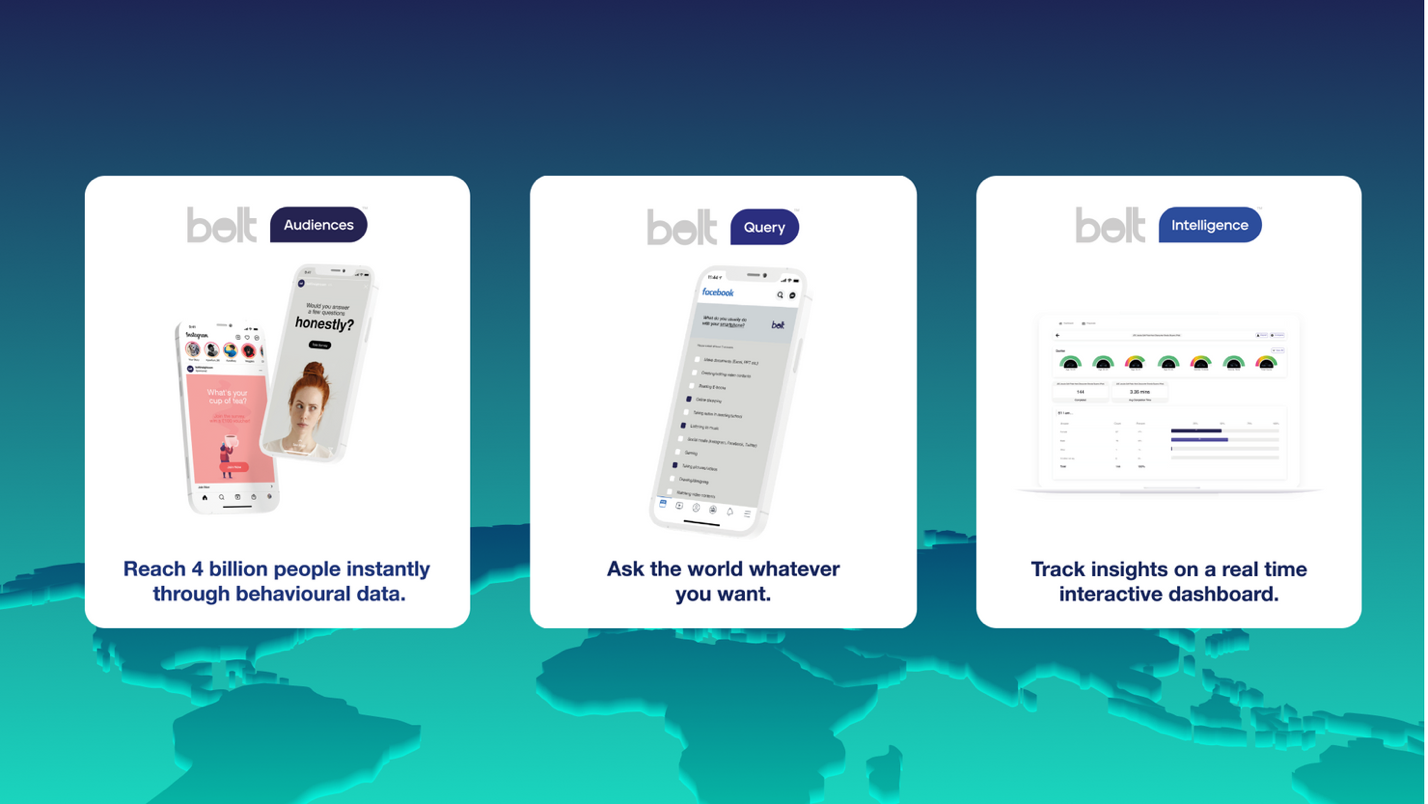 Revolutionise Your Market Research with Bolt Insight
With Bolt Insight, clients have an option to recruit through the world's largest panel – social media and collect key insights from behaviourally targeted respondents in just hours.
In a highly competitive environment like today, marketers and researchers need a tactical approach to gain unique insights about their target audience. With survey platforms, marketers get a chance to select hyper-targeted demographic and profile audiences without any manual interventions. This capability when coupled with real-time access to global consumers across markets provides unparalleled insights and data to achieve business goals.
Interested? Reach out to us to see our unique approach to testing concepts, ideas, and innovation, providing actionable insights in just a few hours!