At Bolt Insight we're in the business of helping businesses 'sit next to' their customers, providing agile consumer insight to help supercharge their ideas, innovations, and inspirations.
With our digital Creative Neuro service, you can now harness the power of neuromarketing to optimise your next product launch, ad or campaign – but in a way that's infinitely more scalable and affordable than ever before.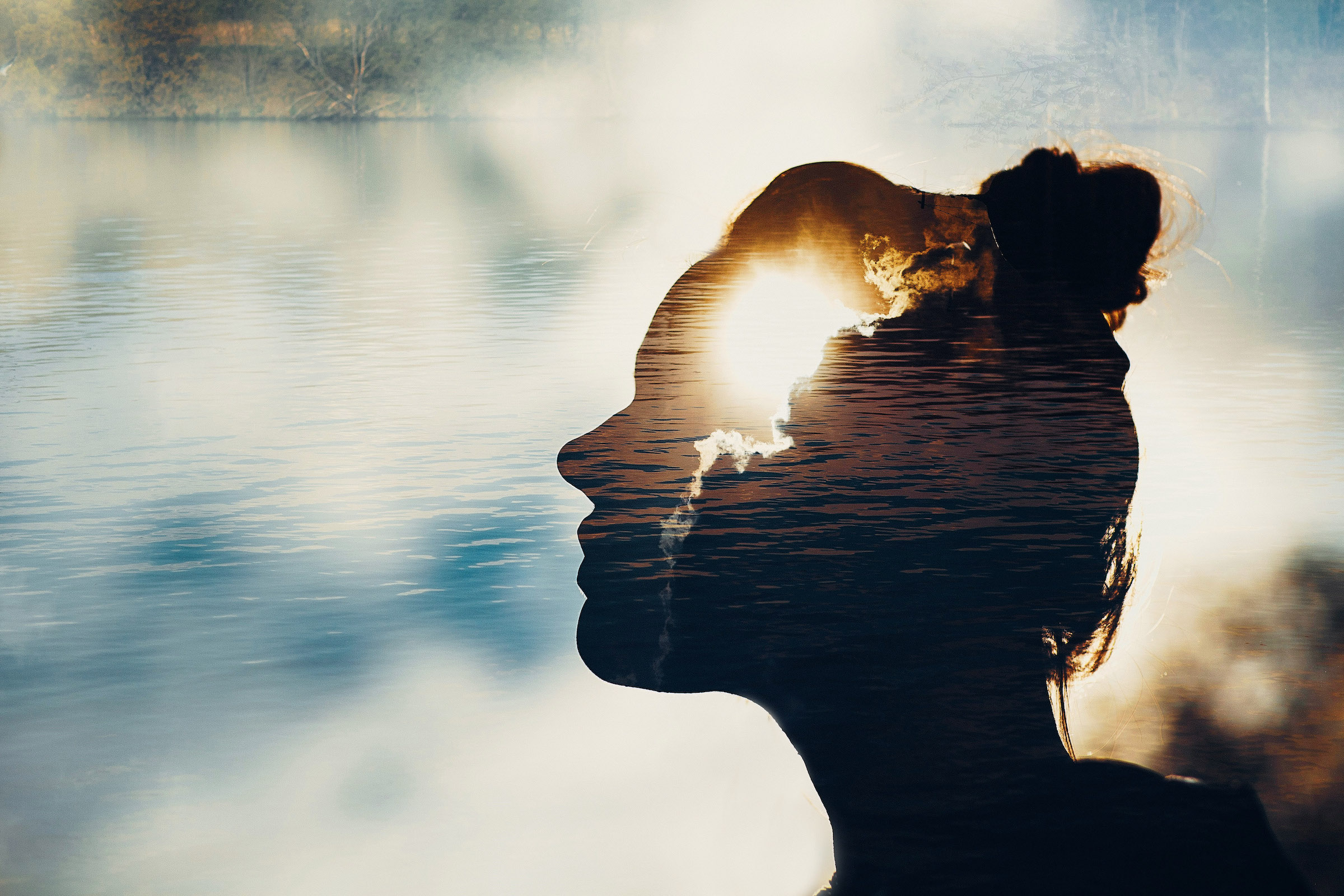 Creative What-Now?…
Creative Neuro. It's about getting to the heart of the matter, when it comes to understanding how your consumers really feel about and unconsciously react to your latest ad, campaign, or idea. But here at Bolt we don't need labs, or electrodes, or ominous scientist guys in white coats peering at clipboards to help you get inside your customer's heads.
Through utilising eye tracking software, facial coding algorithms, and measuring implicit reaction time, we can track and record people's eye movements and where their attention is directed, as well as analyse their facial expressions and unconscious reactions to decode their real emotional responses when exposed to your ad or creatives.
All we need is your inspired ad or visual – and we'll connect and test it with the millions of potential customers specific to your unique use case. And all they need is a webcam and internet access.
Whether you want to optimise your next campaign or measure reaction to a new concept, claim or product design, our digital Creative Neuro solution will help you gain unprecedented insight into the unconscious reactions your ad or campaign has on your consumers. Once the test is run, you'll get frame by frame dashboard insights to help you finetune and optimise precisely where you need to – to maximise your results, ensure your success, and fuel your ongoing growth.
McDonald's, anyone?…
As a brand, McDonald's needs no introduction. We harnessed the power of Creative Neuro to understand implicit consumer reaction to their new #RaiseYourArches campaign, to see exactly what emotive responses each scene was generating and get a deeper, more granular understanding of its real impact on people.
Their latest 'Fancy a McDonalds' advert – directed by Hot Fuzz and Shaun of the Dead filmmaker Edgar Wright – received somewhat polarised reviews after its initial launch online. Many loved the playful and fun nature of the short film, but others were seemingly confused about the lack of direct brand imagery or branding throughout most of the ad.
Depicted using the director's signature rhythmic editing style, the short film sees a workforce of employees round each other up to head out of the office to get a McDonald's – indicating their desire for a McDonald's to each other with a simple raise of the eyebrows, in time to the music. It's sharp, funny, and doesn't take itself too seriously – all good things when it comes to marketing in the Age of Internet.
Regardless of the divided opinions, the ad impressed many folks in marketing circles, with marketers praising McDonald's for finding innovative and engaging ways of leveraging the strength of its existing brand equity. There's no mention of McDonald's or any direct brand imagery until right at the end – just subtle but telling hints throughout. And McDonalds' branding is so strong that even by briefly and indirectly seeding and priming viewers with inferred references to their brand imagery, they can create strong and instant recognition and affinity.
Joe Glover, Co-founder of The Marketing Meetup , weighed in saying: "Very few brands would get away without showing the thing they are advertising, but McDonald's have built such recognition, they can do this."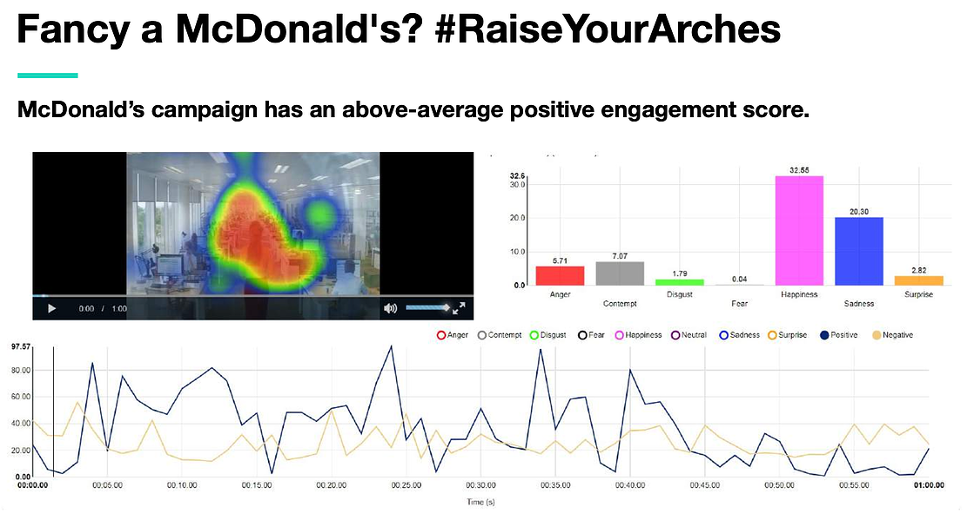 To get a deeper understanding of people's reactions, and what exactly was working (and maybe not working so well) in the ad, we tested it across a range of consumers in the UK.
Utilising eye tracking and facial coding we were able to decipher the unconscious emotional responses of consumers to the ad, as well as which precise stimuli generated the most positive and negative reactions, frame by frame – insights that would previously have been impossible without the use of Creative Neuro analysis.
And the best part? All of this took a fraction of the time traditional neuromarketing would take. In fact, we were able to launch, test, and have all results back within 3 hours. That's revolutionary…
Insights to Action
The results showed overall strong positive happiness scores of 32.5 – well above traditional industry benchmarks. And interestingly, they also showed that the lack of direct branding and brand imagery actually helped to pique people's interest and curiosity throughout the start of the ad – as they try to decipher and work out what the advert is actually advertising.
Curiosity and interest build to a peak about mid-way through as the story and the action builds and unravels – before reaching a peak as they successfully guess correctly, almost getting a dopamine hit of 'winning' the guessing game that the ad inherently creates. But once the brand is out of the bag, as it were – and it becomes clear the advert is for McDonald's – we see engagement drop as the mystery is now, essentially, solved.
And using Creative Neuro – we can track and measure this, scene by scene, frame by frame.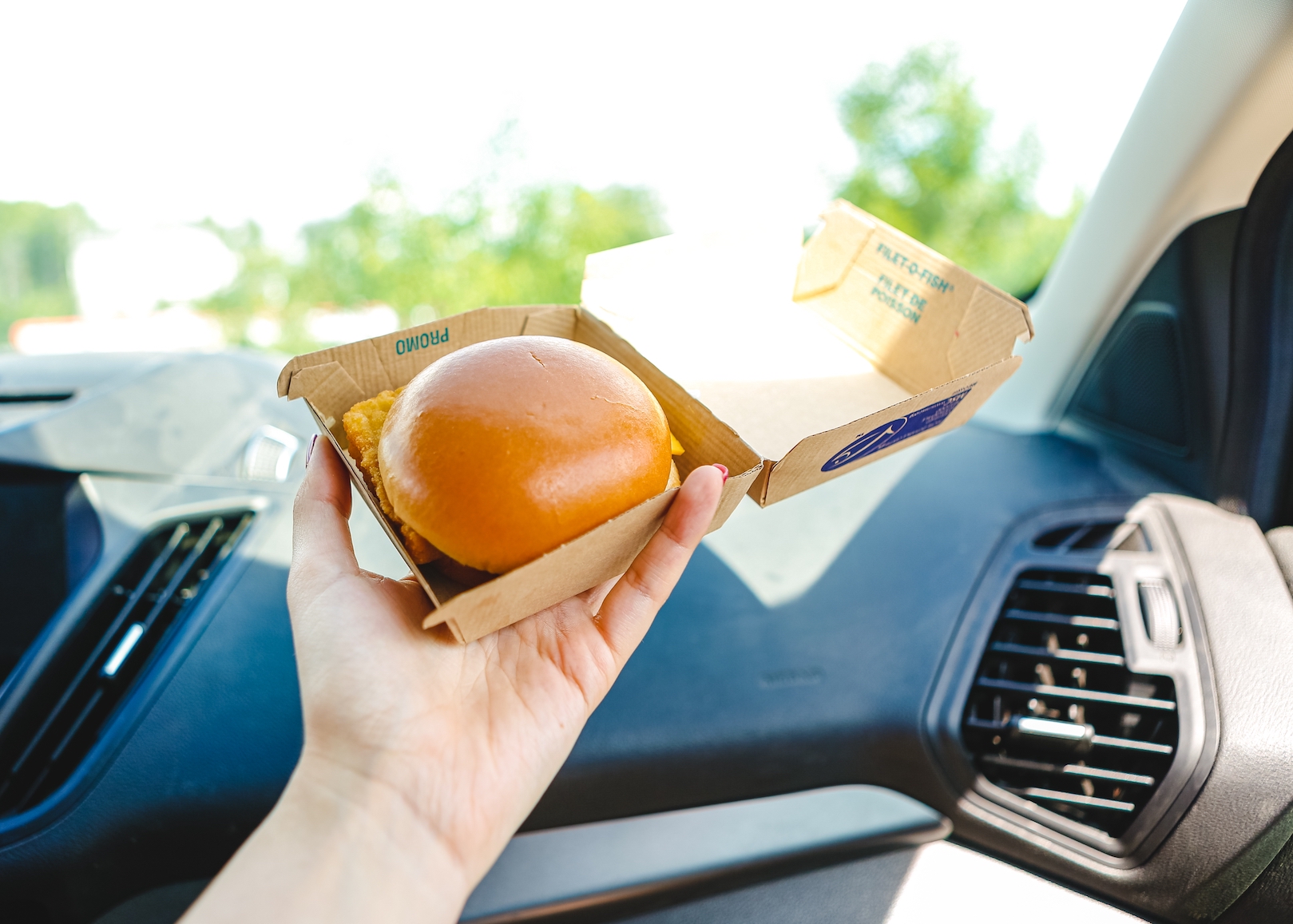 Ultimately, it's McDonald's strong existing brand equity that allows them to set this frame, and play this game, but it works. It draws people in – and engages them, much more it would seem than it would have had there been explicit branding and imagery right from the outset.
Overall, it's clear the campaign generates strongly positive emotional responses. And marketers would do well to consider how creating a sense of intrigue and curiosity at the start of ads can help to draw people in – and hook their attention trying to work out what the advert is for before its explicitly revealed.
Attention, ultimately, is the new currency, and understanding the key leverage points to engage and retain it is key to brand and campaign success.
Want to know more?
Whether you're looking to launch a new product or campaign, run a concept or claim test, or conduct a visual shelf test, our digital neuro-marketing solution can give you the keys to unlock the unconscious associations, emotions, and anchors that your creatives are conveying and communicating to people – and ultimately ensure you're maximising the effectiveness of your launches and campaigns.
Interested? To book a demo, just get in touch: [email protected]